I recently had the chance to try a couple of products by MyProtein.com, Europe's number one sports nutrition brand. I was already a customer of theirs, having tried and loved their popular Impact Whey Protein powder in their chocolate and vanilla flavours, so I looked to try something different.
The Primal Diet that I committed to over summer has really stuck with me; already being gluten free it was the next step down the path of healing my gut, and I've never felt better than I do now. More energy, never lethargic and best of all cramps, bloating and skin problems have all but disappeared

*please don't jinx*

.
Cutting down on carbohydrates such as rice and grains is one of the Primal Diet's most important principles. As they are however a large source of calories in a standard diet they need to be replaced by extra fat and protein for the body to function and thrive. Whilst meeting these goals at mealtimes is becoming more intuitive for me, it is snack times where I'm most likely to slip up and eat a chocolate bar or lots of sushi.
With that in mind when choosing healthy snacks, it makes sense to create meals with ingredients high in healthy fat and/or protein whilst keeping the sugar content low. So I picked these two products: Smooth Almond Butter and Impact Whey Protein in Vanilla (Stevia).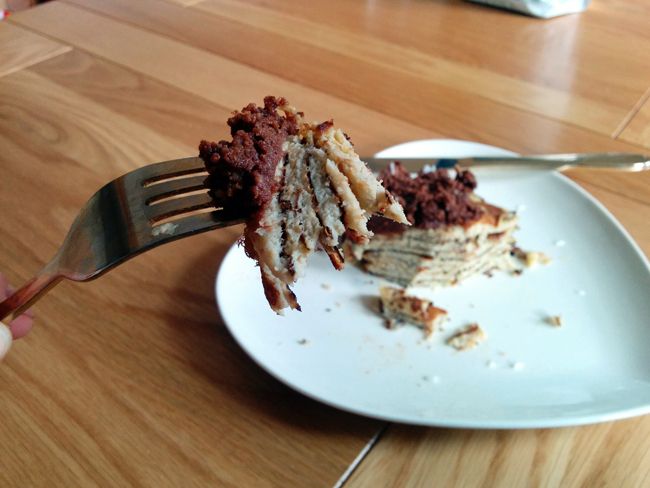 In the above photo you can see that I first used both products to make
breakfast pancakes
,
which were fantastic. For the topping I mixed the nut butter with some raw cacao powder and water, and sprinkled on some coconut. The protein powder contains
stevia
, a great
natural alternative to sugar
which doesn't produce as many negative effects.
So is whey protein primal? Mark puts it best:
"

It isn't strictly

Primal

(and certainly not paleo) in that it wasn't available to

Grok

, but it can be an effective, occasional high-protein meal replacement with most – if not all – of the potential allergens mitigated or negated."
That's good enough for me.
Next up I made the ultimate dessert for when all you want is ice cream and chocolate. It really hit the spot without making me feel like I had nose dived or over indulged.
Greek yogurt mixed with vanilla whey protein

70/80% dark chocolate

Raspberries - heated to make a compote

Almond butter

Dried fruit

Mixed nuts

Chia seeds
This was served in a wine glass to make it feel a bit more special
because I'm worth it
. The Smooth Almond butter added some unexpe
cted texture to the dish and, I have to warn you, is very moreish. Honestly, right now I have it next to me while I type this and I keep sneaking little bites. I'm going to go put it back in the cupboard now...okay just one more bite.
Phew, thank God that's out of sight. I love almonds and this butter is 100% nuts as well as being naturally high in healthy fat and protein.
My final recipe could either be transported into a cup for portability or served in a bowl topped with yummy things like I did below.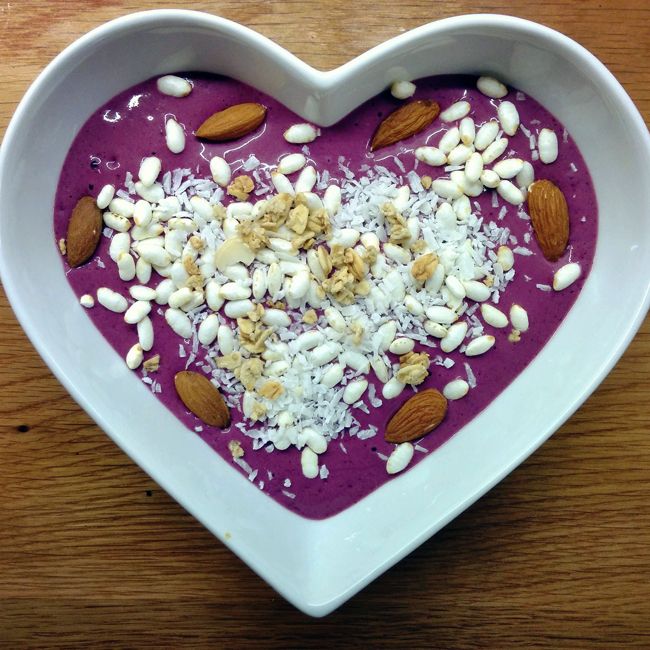 Blend:
Frozen raspberries

1 scoop vanilla protein powder

1/2 cup unsweetened almond milk

1 heaped teaspoon almond butter
When comparing the stevia blend to the standard vanilla, I have not noticed any noticeable difference in flavour. There's no bitter aftertaste or unblendable clumps, so all in all I would recommend this product to anyone who wants a great all-round protein powder without adding any unnecessary sugar.
For more recipes using these products and other primal-approved foods, please check out my instagram @blondeandgrainless
Happy snacking!
Thanks to MyProtein.com for sending me delicious food - have a look at their discounts page!