Today I want to go off-topic and talk about some of my go-to make up products. Over the past couple of years I have been battling rosacea, a mainly facial skin condition featuring symptoms such as redness, flushing, spots and sensitivity. I have been able to manage the condition a lot better since discovering my outbreak 'triggers', however I am saving those for another post.
These are my favourite make up products to use when I want to look my best and hide any problem areas without aggravating them further.
Maybelline Baby Skin Instant Pore Eraser £7.99
I know this is perhaps the most reviewed drugstore product ever so I'll save the gushing, but it really is a good dupe for Benefit's Porefessional, which was my favourite primer. You can save £16 by buying the Maybelline primer so this one is a winner if you're on a budget.
It's an oil free translucent product, which aims to minimise pores and fine lines, whilst helping foundation glide on and look flawless if you choose to wear it.
Maybelline Dream Pure BB Cream for Oily Skin £6.99
This is another Maybelline win for me. I was quite surprised to discover that unlike other BB creams that I've tried, including those by No.7 and Rimmel, it provides enough coverage to pass as a light foundation. A thin layer minimised the redness on my cheeks and nose but didn't feel too heavy, or make me look too done up. This is my go-to product for when I want the "no make-up make-up" look.
I find it looks best when applied directly to the skin with warm clean fingers.
Stila Lip & Cheek Stain in Acai Crush £16
I love wearing bold lip colours but often find traditional lipsticks too high maintenance, and I am put off by the prospect of having to touch up every time I eat or drink. Also, I appear to have a strange habit of pursing my lips together - does anyone else do that?! Anyway, it means that lipstick does not stay put for more than a couple of hours.
Last week, I put this lip stain by Stila (shade Acai Crush) to the test at The Northumberland Hussar, where I had a bunless burger with chips, ketchup and cheese - yummy! - plus a couple of beers. When I checked my reflection afterwards I was happy to see that my lipstick required no touching up at all.
It also works well as a cheek stain, although I normally don't require any extra colour on that part of my face ha.
My only gripe is that it was so good I struggled to get it off with my cream cleanser.
By morning it had worn off however, and I was free to apply another colour. So naturally I just reapplied the same product.
Maybelline Anti-Age Eraser eye concealer £7.99
I have been cursed blessed with extremely pale skin, and one of the side effects is having pretty visible dark circles under my eyes. Normally I layer up foundations and brighten with a white eye pencil but this cute little product has really made a difference lately.
The size is perfect to pop in your handbag for touch ups, and the spongy applicator means that no product is wasted. Despite it being a creamy product it doesn't collect in creases, which was a nice surprise - perhaps that's the 'anti-age' part?
The only con is that I used the 'Light' shade and only saw one other colour available in Boots which was named 'Fair', so this won't be much good for darker complexions.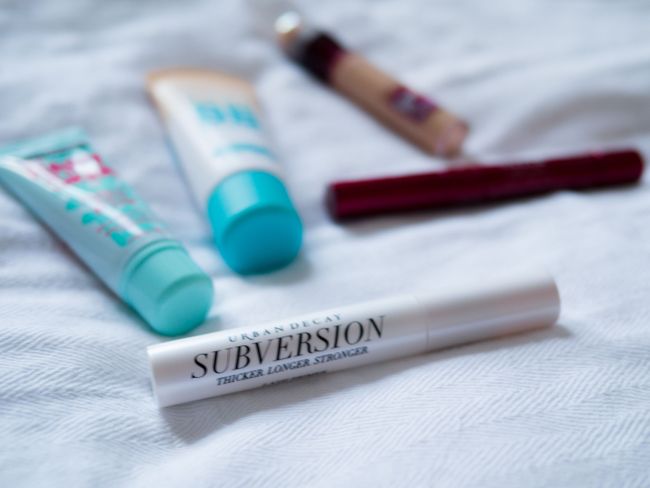 Urban Decay Subversion Mascara Primer £15
If I'm honest I had never seen the point in a mascara primer before a week ago; it just seemed like one step too many for me.
I changed my mind when I saw how much difference it made when I visited the Urban Decay counter in Debenhams. It adds volume, length and makes any mascara look better. Like foreplay for your lashes, ha. I have quite small eyes, so often feel too naked leaving the house without some eye shadow to boost them a bit. I thought it was a bit pricey at first but decided it was worth it, as I now feel like I can skip the eye shadow some days. Eyes look bigger and lashes much prettier.
For best results let it dry first before adding your black mascara on top.
L'Oreal Mega Volume Miss Manga mascara
I bought this after reading its great reviews on MakeupAlley.com and it did not disappoint. When worn on top of an eyelash primer it's about as close you can get to the false lash look without getting all fiddly with glue.
I hasten to add that I purchased this mascara before the Urban Decay primer and still loved it even then. One coat gives thick, long black lashes which don't look clumpy or transfer to the skin. Best mascara ever.
------------------------------------------------------------------------
That's all from me today, back soon with some more food-based posts and perhaps a couple of skincare posts, complete with before and after pics eek!