- Please visit here to see why I'm challenging myself to live as a modern cavewoman for 21 days -
MODERN FORAGING
Today I visited Newcastle's monthly Farmers Market and bought some grass-fed beef burgers, pork loin steak, bacon, pigeon breasts(!) and courgette all for under £15. There was some more expensive and fancy stuff but I'm on a budget this month. This is a pretty decent haul.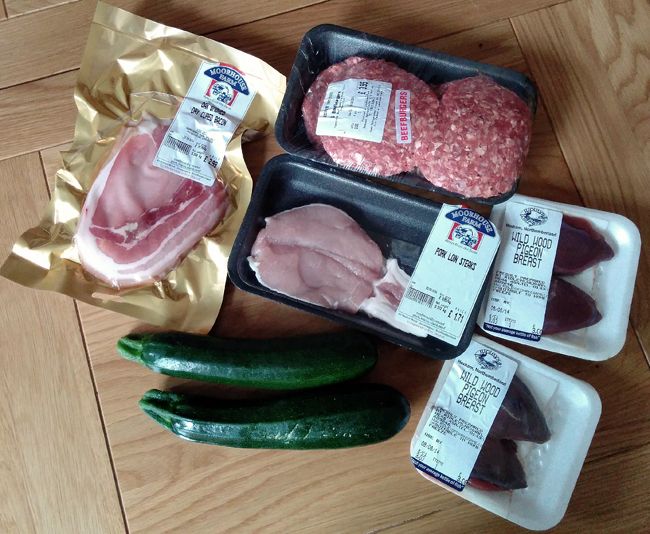 LIFESTYLE - ACTIVE COUCH REBELLION
Today's second challenge was to not go longer than 30 minutes without taking a movement break of 2-5 minutes. On my lunchbreak I 'UP'graded my wearable technology and set it so that it would vibrate every half an hour to remind me to get up. Neat huh?
SUMMARY COMMENTS
Daily energy levels 1-10: If yesterday was rough then today was fantastic, as I was full of beans all day -10-
Hunger levels between meals 1-10: Today I was very engaged with work and didn't feel hunger pangs between meals. No cravings whatsoever, which is basically unheard of to me. Was it the work or was it the diet..? -1-
Satisfaction level with meals 1-10: Breakfast was an unattractive but delicious omelette made with grated sweet potato - genius - spinach, onion and bacon. Cooked with butter, obviously. I then had coffee and heavy cream at work (ohmygod amazing), leftover cauliflower pizza for lunch and some strawberries with more cream. Dinner was one of the grass-fed burgers, 2 chipolatas, garlic broccoli and sauerkraut. Does this sound like a restrictive diet to you? -10-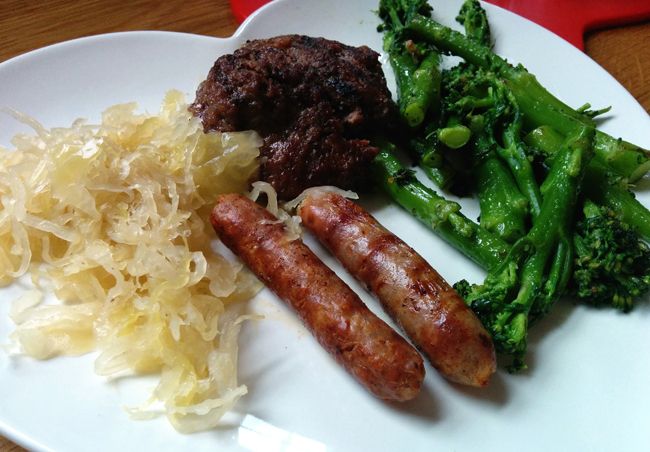 Struggles today with primal efforts 1-10: Headache from staring at a monitor all day. Very un-cavewoman of me. -5-
Benefits noticed from primal efforts 1-10: At risk of repeating myself but I'm happy to report that my digestive system is totally happy, and there is no bloating in sight. Y'know another thing I've noticed? I'm not as thirsty as normal. Nor am I yearning for that beer or two after a day's work; and it's Friday. I'm having a glass of wine tonight but that's mainly because I opened a bottle earlier this week and failed to finish it...eh? -10-
Daily highlight(s): That coffee.
Daily needs to improve: I haven't done much lifting or sprinting yet. Must amend...
Success score: 9/10
Visit Day 6