- Please visit here to see why I'm challenging myself to live as a modern cavewoman for 21 days -
HONOUR HUNGER

Today's first challenge was to only eat when actually hungry, rather than during traditional meal times.
Times ate: 11am (brunch above!), 3pm and 8pm
Hardest part: I normally eat breakfast first thing in the morning, but today I abstained and did find it difficult.
Best part: The satisfaction after my afternoon meal was like nothing else. It felt my body was giving me a big pat on the back: "Well done - that meal nailed it! We'll get back on form now...".
Comments: There's another challenge coming up like this so we'll see how I do after a week or so.
BOYCOTT INDUSTRIALISED FOOD
The second challenge was to avoid eating food from multinational corporations.
Steps taken against industrialisation of food: I ate at The Naked Deli on Chillingham Road in the afternoon - I totally recommend the grass-fed burgers with mushroom buns! (notice a second helping of sweet potato there..?!) I also made homemade pizza again for dinner...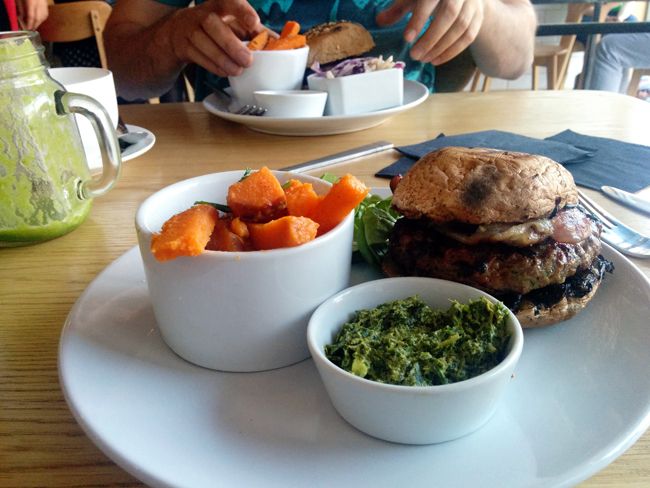 Hardest part: resisting Joy's homemade Victoria Sponge as technically it was not industrialised. However, it was definitely not primal. Boo..
Best part: Eating some coconut milk ice cream instead ;-)
Comments: I'm absolutely adoring all this yummy food; my gut reaction (#sorrynotsorry) is that many of these dishes are going to be mainstays.
PLAY
The guidelines suggest having a spontaneous play session today. I spent the afternoon outside amongst the foliage with my friends. Tick!
SUMMARY COMMENTS:
Daily energy levels 1-10: despite all the achievements of the day I have have to admit it was a battle to keep moving -4-
Hunger level between meals 1-10: The 'emptiness' I mentioned yesterday was incredibly present this morning. Felt weak, though I believe it is a side effect of detoxing my body of a lifetime of eating sugar and grains. -10-
Satisfaction level with meals 1-10: This is a hard one, because the meals I had were so so tasty, but I felt I could have just kept eating all day. -2-
Struggles today with Primal efforts: I really did feel run down in the morning. Not certain whether it's the detoxing effects or just a come down from the adrenaline which has kept me going during the first couple of weeks in a new challenging job.
Benefits noticed from Primal efforts: Interestingly, I felt much better after having some sweet potato, so my guess is that good carbohydrates are necessary sometimes. Particularly if you are active!
Daily highlight(s): Getting a much needed lie in and getting some sunshine.
Daily needs to improve: Eat sweet potato..! I hope tomorrow is less up and down.
Success score : 5/10
Click here for Day 5