- Please visit here to see why I'm challenging myself to live as a modern cave-woman for 21 days -
DIET - PRIMAL RECIPE PART 2
I enjoyed yesterday's breakfast so much that I made it again on Friday. This one was enjoyed in a much more leisurely fashion as I had the day off to travel back down south to visit my family. Take me back!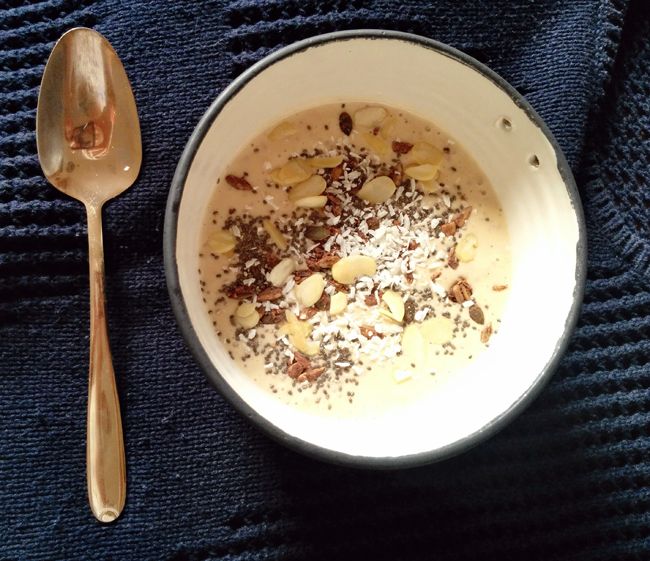 GO COCONUTS

I won't bang on about the benefits of coconut oil, because literally everyone else has blogged about it. What I will tell you is that in the morning I smothered it on my dry hair and left it on as a mask for an hour. I was a bit dubious and totally expecting to have to spend half an hour washing it out.
My hair had been suffering lately, or rather I had been abusing it with bleach, straighteners, products and not getting regular cuts for years. Coconut oil gave it a new lease of life! I washed it out (once) and it was beautifully silky and shiny. Totally thrilled to have discovered another use for my favourite product, and I definitely recommend it.
It turned out to be a coconut themed day as I bought a Chi Coconut Milk with Espresso from the newly refurbished Central Station. There are some really great paleo-friendly options available now :-)
LIFESTYLE - NURTURE YOUR INTIMATE AND SOCIAL CIRCLES
Funnily enough today's recommended challenge was to schedule a family social gathering with no digital stimulation or distractions. I had booked the train tickets home to see family ages ago, honest! I enjoyed conversation, food and wine and completely ignored my phone. Perfff.
SUMMARY COMMENTS

Daily energy levels 1-10: pretty good, didn't even feel an afternoon slump after one of these! -9-
Satisfaction level with meals 1-10: We had my step-Dad's homemade cottage pie for dinner which was uuuhmazing -10-
Success score: 8/10