The preparation has started this week with the rearrangement of my food cupboard. I share this cupboard and its contents with Chris, so I thought I'd prevent any future hiccups (read sugar/carb cravings) by taking everything out and starting again. The challenge guidelines actually recommend doing this on Day 1, and shopping for primal foods on the second. However, as I start on a Monday which is a work day (new job too!!) I thought on Day 1 I'd rather concentrate on just getting through - having already planned a day's worth of meals.
So this happened yesterday:
Pictured above are all the 'banned' foods, which I have put into a box with the aim to use them up over the next few weeks. I also thought that if I consumed vast quantities of these banned foods which are (probably) zapping my energy, breaking my skin out and giving my stomach ache, then I'll get a horrifying-but-necessary before photo and will (hopefully) notice the benefits of cutting them out a lot more.
You'd be forgiven for thinking that the above foods are actually not that unhealthy:
Sugar-free puffed rice

Baked beans

Black rice noodles

Low-calorie chocolate sauce

Pearl barley

Peanut butter

Chocolate protein peanut butter

Rice paper

Chickpea flour

Rice flour

Cornflour
But nope, they have to go. I also had 3 kilos of porridge oats, 2 of which are unopened and therefore will be donated to anyone who wants them. The rest I used to make some flapjacks!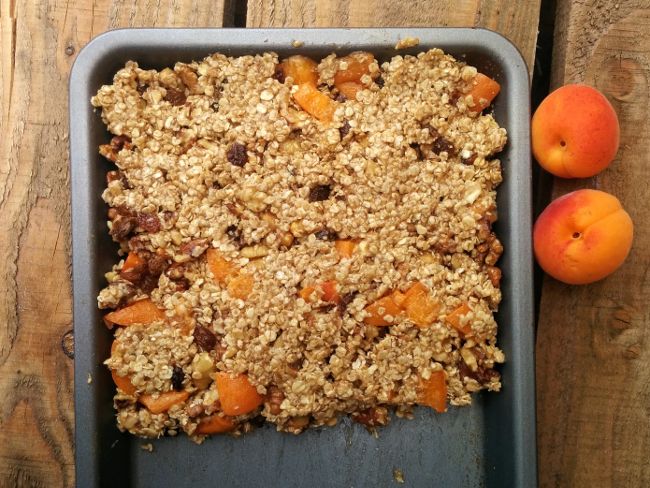 Oats are something I will miss - I love the texture, and the way they feel so warming on a winter's morning.
But then I remember that bacon, eggs and sausages exist and I don't feel so bad.
I'm off down south now to spend the weekend with my ever-increasing family, including a currently-being-born-right-now step nephew and a 5 month old pug puppy named Dudley! Hopefully a weekend of sunshine, pub gardens and play. More prep next week, including sourcing some natural skincare and bathing products.
Hoping everyone has a great weekend :-)
Recipe for the apricot and pecan flapjack can be found here.
JustGiving profile