- Please visit here to see why I'm challenging myself to live as a modern cavewoman for 21 days -
KITCHEN PURGE
Hardest part: removing the chocolate peanut butter by Nuts N More
Best part: having lovely clean shelves?
Comments: a lot of the stuff I got rid of I did so by eating it over the last couple of weeks. As a result I became bored of peanut butter, noodles and rice puffs etc and so I'm not feeling sad about giving it up. Yet(!)
RESTOCK PREPARATION
Primal shopping resources: The Honey Tree, Muscle Food
Comments: I've often relied on Morrisons for grocery shopping and I'm worried I'm going to spend half my day chasing ingredients around Newcastle.
INCREASE DAILY MOVEMENT
Ways to increase daily movement over the long term:
don't use the lifts at work;

go for walks after dinner;

arrange trips at the weekends to the coast or countryside to explore.
Today's movement endeavours:
Jawbone UP says I walked 14,552 step, which is 6.3 miles.

I did a 'coredio' session for 36 minutes, burning 317 calories.
PRIMAL ESSENTIALS
Items acquired today: I bought this stuff!
Comments:
Can't wait to try the frank scrub. The coconut oil is for oil pulling, moisturising and removing eye make-up.
SUMMARY COMMENTS
Daily energy levels 1-10: 6 (yawned all the way through the afternoon)
Hunger level between meals 1-10: 7
Satisfaction level with meals 1-10: 6
Struggles today with Primal efforts:
I found that all morning I kept worrying about whether I was going to find anything to supplement my lunch: "where can I find s
omewhere selling freshly cooked free range chicken...minus, bread/sauce/pasta". It also felt strange not having dessert after dinner.
Benefits today from Primal efforts: I ate really healthily. I mean, check out this mackerel salad..!
Daily highlight(s): bein
g complimented by my new boss at work and having this for breakfast.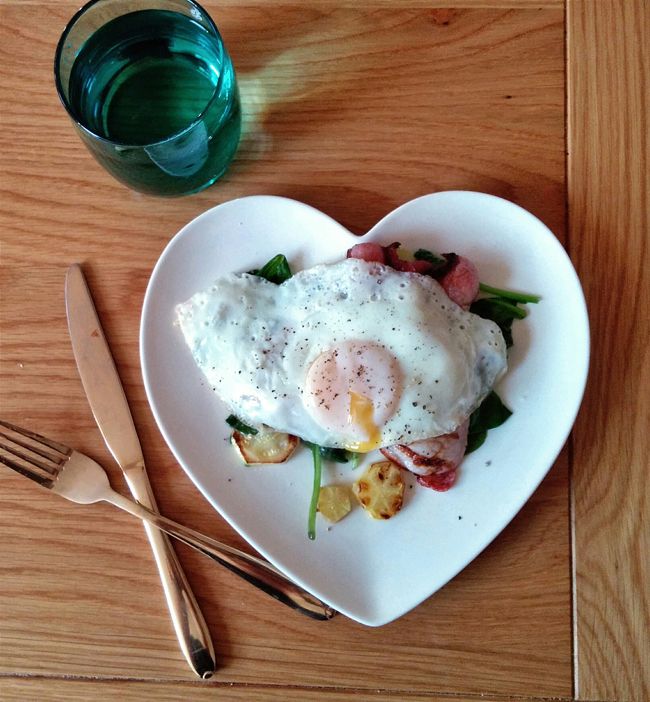 Daily needs to improve: be more
prepared for lunch - broccoli, butternut squash, parsley and berries are a snack, let's face it.
Success score (1-10): 9
Click here for Part 2.