- Please visit here to see why I'm challenging myself to live as a modern cavewoman for 21 days -
PRIMAL SHOPPING SPREE
Shops visited: Marks and Spencer
Hardest part: Forgetting to take my shopping list. Oops!
Best part: 3 for £6 on fancy olives and sundried tomatoes, and discovering the organic local vegetables section.
Comments: I had a £50 gift card to spend in M&S, so thought I'd try modern-cavewomen-on-a-budget.
MODERATE DURATION AEROBIC WORKOUT
Location: Gym NRG
Activity: Hybrid (included kettlebell squats, jumping pull ups, skipping and planks)
Duration: 42 minutes
Comments: estimated burn of 317 calories
CALM, RELAXING EVENING
What I did: grated a lot of cauliflower to make this!
Hardest part: waiting until 8:30pm to eat it!
Best part: the pizza was amazing, and I have leftovers for tomorrow - I followed this recipe loosely.
Comments: I didn't do amazingly on the whole relaxing part, though I did manage to read my book for an hour before going to sleep at 10pm *smug*
SUMMARY COMMENTS:
Daily energy levels 1-10: less yawning today hurray! -8-
Hunger level between meals 1-10:felt starving this afternoon -8-
Satisfaction level with meals 1-10: I think my portion sizes need to increase though. Particularly good breakfast today though - stone fruit, eggs and bacon go really well together. -7-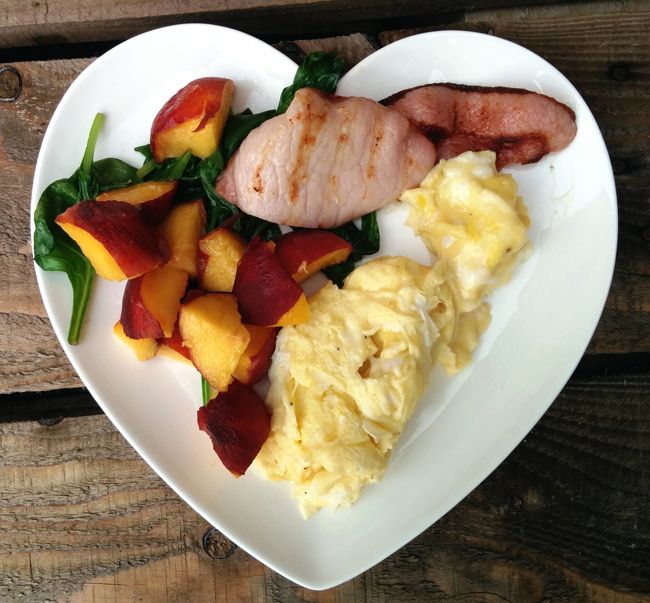 Struggles today with Primal efforts: I was definitely craving the sugar/fat combo until I exercised in the late afternoon.
Benefits noticed from Primal efforts: no bloated tummy!!
Daily highlight(s): managing 10 jump and hold pull ups.
Daily needs to improve: replace second cup of coffee with a herbal tea, it's not needed.
Success score : 8/10
Click here for Part 3