I created this dish with some leftover coconut rice I'd had with sweet potato and black beans the night before -
here
's the recipe if you're interested!
I've been wanting to try chia jam for a while and thought that using the coconut rice in a sweet but healthy breakfast would be fun. It was so easy and quick to make, so I will be making a batch of rhubarb chia jam this evening, while it's still in season.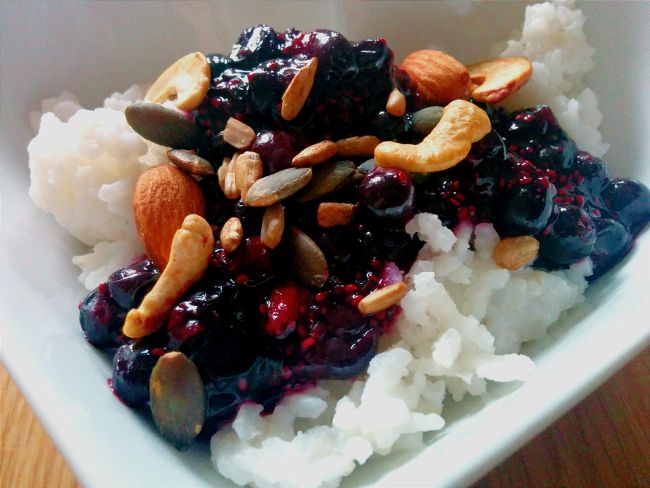 For one portion, take a a handful of frozen berries (I used Morrison's Black Forest Fruits) and heat them gently in a saucepan with 1/2 teaspoon of maple syrup or honey and a teaspoon of chia seeds. Mush them around until a 'jam' forms. Then top them on some warmed coconut rice, porridge, pancakes, cereal, toast, yoghurt, ice cream...cakes?! Perf. I then added some mixed nuts and seeds for some protein and healthy fats. Isn't food fun?
Stay tuned for rhubarb jam, apple cinnamon muffins and a fun way of using up stale bread..