I took a load of photos of this cheesecake, and pretty much all except this first one look like props from True Blood.
This recipe was adapted from a recipe by the 12 Minute Athlete - who is this gorgeous blonde who not only makes great guilt-free desserts but also provides free workouts that you can do anywhere, without equipment. Awesome stuff.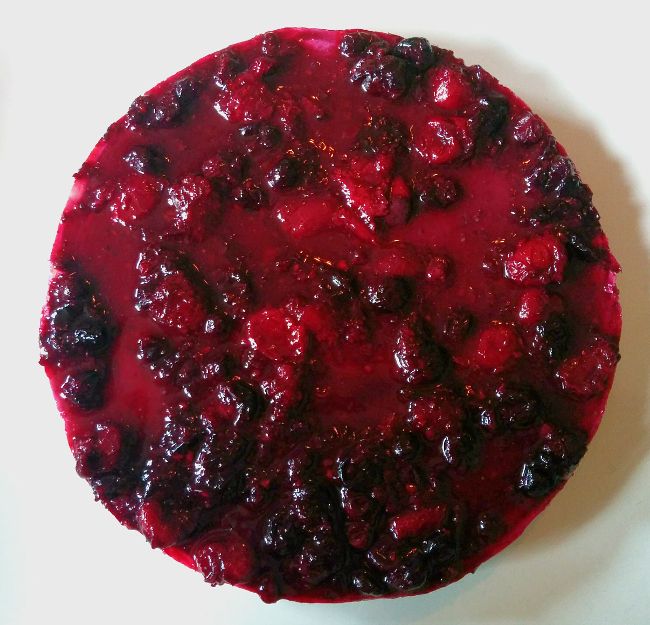 By the way do you like my bunny napkins? :-)
I celebrated the Easter bank holiday with a roast dinner and a couple of Kir Royale cocktails. Just add Creme de Cassis (blackcurrant liquor) and a couple of frozen berries before topping with bubbly. Yum!
This cheesecake serves 8 and each serving is 260 calories with 18g of protein and only 5g of sugar. Pow!
Crust Ingredients
1 cup ground almonds
3 tbsp nut butter (I used cashew)
Cheesecake Ingredients
1 cup low fat Greek yoghurt
1 cup low fat cottage cheese
1/2 cup protein powder (banana or vanilla)
Topping Ingredients
1-2 cups frozen black forest fruit
Directions
Heat the oven to 325 degrees;

Mix the crust and add a bit of milk if too dry. Then spread onto the base of a 7" springform pan;

Mix the filling in a separate large bowl, blend and pour on top of the crust;

Cook for 35 minutes. The middle should still wobble. Let it cool;

Boil the topping ingredients in a saucepan, squishing most of the berries;

Once the toppings have cooled add them to the cheesecake;

Refridgerate for a few hours until serving.