I've had
Graze
boxes on and off for a couple of years now. At £3.89 per box for four snacks some may say that they're a needless expense; why not just buy a load of fruit and nuts and make your own?
Keep reading to find out why I think they're worth buying.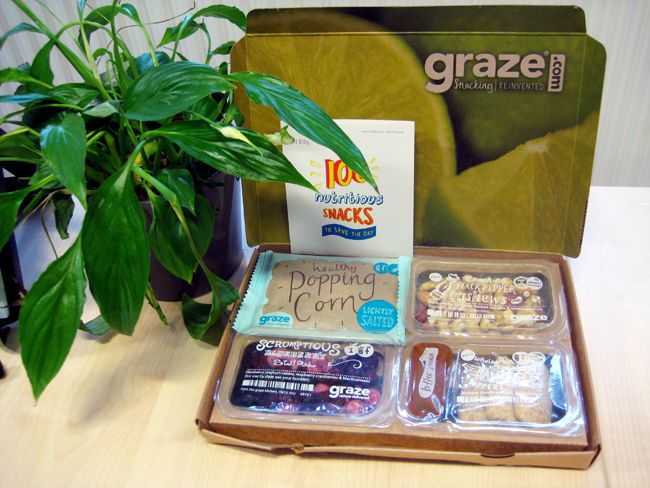 PROS
Delivery is free to any address you like;
You can choose your snacks using the 'Send soon' option or by keeping it as surprise (I employ a combination of both) and there are over 100 to choose from;
You can have them as frequent as you like, or just order one off boxes (I have them once a fortnight);
They cater for coeliacs, lactose intolerants, vegetarians and vegans - handy tools exist to make this a painless process by simply excluding all offending food items;
They're nutritionally good for you, and are the perfect portion size;
The rating system is great. Love an item? Rate it high and you'll receive it more often. Don't like something? Just rate it 'Bin' and you'll never receive it again.
CONS
I found it a little tricky to find the cancel account options, but a Google search helped me out;
I find I'm tempted to eat them all at once;
While there are plenty of money-off offers available for new customers, existing customers don't get any loyalty bonuses unless they find Graze new customers. It would be nice to occasionally get a 'Hey thanks for buying from us - have a box half price!'
These lists are no way exhaustible, but I definitely lean towards a thumbs up for this product. Some of my favourite snacks include the black pepper popcorn (so delicious straight from the microwave), flapjacks and toffee apple.
They do a variety of different boxes to suit your tastes including chocolate boxes, savoury boxes, porridge boxes, kids boxes and mixed boxes. I get mixed boxes delivered to my workplace.
WANT YOUR 1ST, 5TH AND 10TH BOX FREE?
Feel free to use my FriendCode at the Checkout! It's ELLYC6QWP
Okay time for a Graze snack, all that's made me peckish..now which one to choose?!