On hearing about my Coeliac diagnosis a friend from the gym I attend recommended that I try i
lumi
, a local company based in County Durham who produce cooked meals which are gluten, nut and dairy free. Their website has an online shop, and I was hopeful that by having a few of their meals in my cupboard I'd feel safe knowing that there was always something ready to eat straight away if I needed it. Like a safety blanket.
I am delighted to report that ilumi products provided that and a whole lot more for me.
I placed an order using one of their regular deals, which was Halloween themed: spend £20 and get £20 extra stuff for free, including two bottles of Celia lager (yet to try) and allergy free marshmallows. I felt like this was a fantastic deal, and that the food is very competitively priced. I didn't feel out-priced at all and I'm on a teeny budget.
Their meals come in sealed pouches, as pictured below, or as a tray bake. The pouches require you to add rice or spaghetti for you to make it a full meal. Some of the choices include Ragu Bolognaise; Kerala Chicken Curry (see below); Lamb Rogan Josh; Pea, Pancetta and Mint Soup and Tom Kha Gai soup.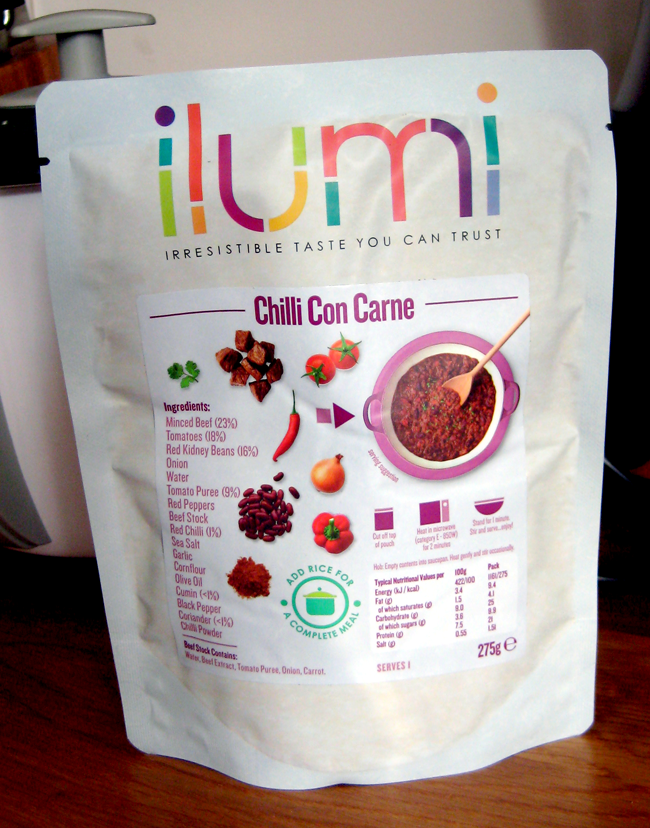 There are options if you are Vegetarian or Vegan as well, and these are easily found using the filters on the online shop.
The first one I tried was chili con carne. I added long grain rice and some cheeky cheddar on top.
It was full of flavour, beautifully cooked and only took a few minutes to prepare. I forgot that it was from a pouch that is supposed to have a 12 month shelf life. So far so good!
Secondly I sampled the Kerala Chicken Curry (pictured below), which I had with coriander and basmati rice...
Wrong choice of rice, my bad! This would have been much better with jasmine rice. Better luck next time! It was still delicious though.
They have a few great trial offers for first time customers
here
. For those who have already placed an order they have a newsletter to keep you up to date with offers for existing customers.
I'm really happy that I found ilumi. They arrived at the exact right time in my life!