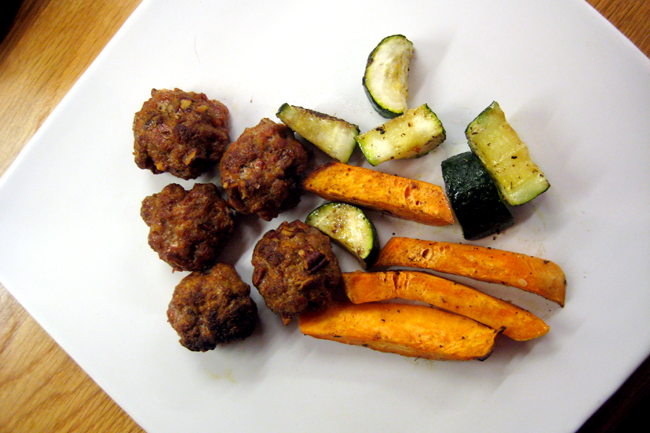 I had a lot of leftover pumpkin puree and was trying to find ways to use it up. One of the blogs I follow,
Kath Eats Real Food
posted a recipe for
butternut squash meatballs
and suggested that pumpkin would also work, so I tried it out.
Served above with spiced roasted courgette and sweet potato.
Here's the recipe!
Ingredients (24 large or 30 small balls)
500g mince beef (or turkey)
2 eggs
3/4 cup mashed pumpkin puree (sold in tins at Waitrose & Tesco)
1/2 cup Parmesan cheese
1/2 teaspoon cinnamon
1/2 teaspoon cayenne pepper/chili powder
1 teaspoon salt
1 clove garlic, minced
1/2 cup pecans, chopped
NOTE: I recommend buying your nuts and spices from Waitrose.
Instructions
Preheat oven to gas mark 6/7
Place chopped pecans on a sheet pan and toast for about 3-5 minutes, keeping careful watch that they don't burn.
Beat eggs in the bottom of a mixing bowl.
Add meat, Parmesan, pumpkin, garlic, spices and salt and mix to combine.
Add pecans.
Form into balls and arrange on a baking sheet.
Bake for 25 minutes, or until balls begin to brown. Halfway through cooking the fat may need draining especially if you used beef mince.