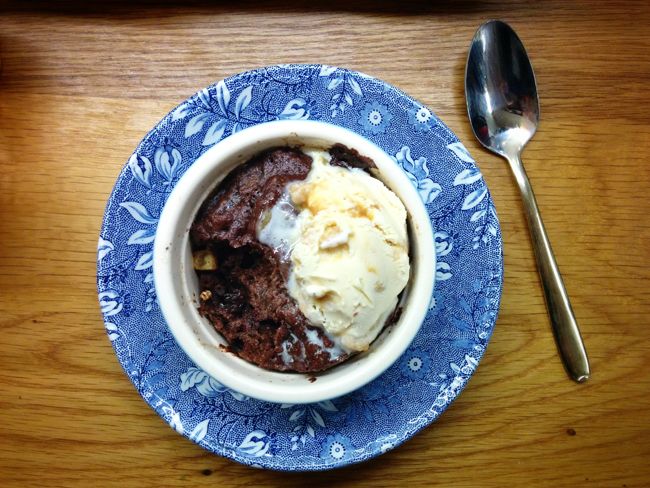 I didn't intend to go mug cake-mad last week, it just sort of happened. Driven by my desire for chocolate cake and brownies, I frantically searched Pinterest (of course) and discovered two recipes which could be made in under 3 minutes with ingredients from my cupboard.
I won't take the credit for the brownie one, but the second one is adapted from a recipe in my head.
The brownie one was my favourite, which may be because it was smothered in ice cream and it actually makes two, but the other one comes up trumps nutritionally and is therefore the better option if you are after something guilt free.
Enjoy! x
CHOCOLATE BROWNIE MUG CAKE
See the recipe here. I added mixed dried fruit instead of nuts and served it with salted caramel ice cream. Serves two; split the mixture into two ramekins and pop one into the fridge for the next day. When it comes to eating the second one just stir a splash of water into the mixture before microwaving.
SUGAR FREE CHOCOLATE MUG CAKE FOR ONE
Oil a mug then add a mix of:
1 egg
2 tbsp cocoa powder
1 tbsp honey/coconut sugar/stevia
1/2 tsp baking powder
1 tbsp cream/almond milk
a pinch of salt
Microwave for 1min 20. Pop onto a plate and top with cacao nibs and chocolate whey protein mixed with water.