I loved pop tarts when I was younger, particularly the Chocotastic ones. If I ate one now of course I'd look like a whale within an hour, so it's best to avoid the shop bought ones.
However, I really wanted to try making my own. This was my first attempt at making gluten free pastry of any kind and I won't lie, it's not particularly easy. But I love a good challenge, and I think you'll agree I nailed it. And not a grain of flour or sugar in sight.
Photo above is the apricot jam filling
Ingredients (6-8)
2 cups gluten free flour
1/2 cup sugar substitute (I used xylitol)
3 tbsp flaxseed
3/4 cup virgin coconut oil
2 tsp vanilla extract
2-3 tbsp warm water
Filling suggestion: PB and jam, Choc PB and cacao nibs
Directions
Mix all ingredients together in a large mixing bowl;

Preheat oven to 350 degrees;

Roll out dough onto parchment paper and cut into rectangles/squares with a knife. Use the knife to lift onto a greased baking tray;

Add fillings onto the middle of the pastry, leaving an 1cm border;

Place the other squares on top of the filling and slightly press down;

Use a fork to press the edges together (very gently!);

Bake for 20 minutes or until the edges go golden;

Once out of the oven use a fish slice to scoop them up.
Sorry I couldn't take a photo in between these stages - my hands were covered in dough and butter (mm)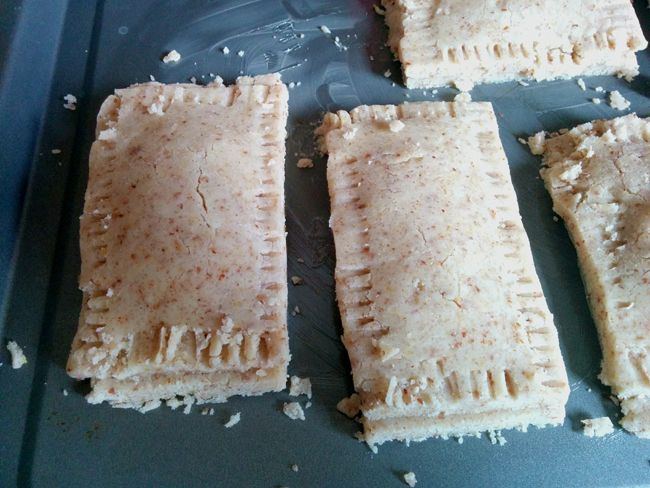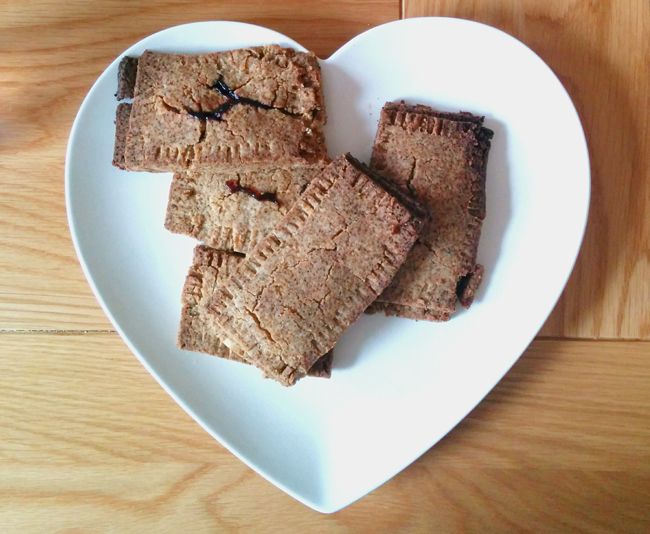 Photo above is the chocolate peanut butter filling
Note: I found this recipe on Bakeology and used rice flour. I don't recommend this type of flour actually, but they just about worked! Try coconut flour or standard GF plain flour instead. Also I doubt these would survive a toaster re-heat, best use the microwave or oven.