Today's recipe is adapted from
Fit Sugar
, which I check regularly for fitness and health articles, and healthy foodspiration. They have a great source of gluten free recipes, especially breakfasts (which you may have guessed is my favourite meal of the day).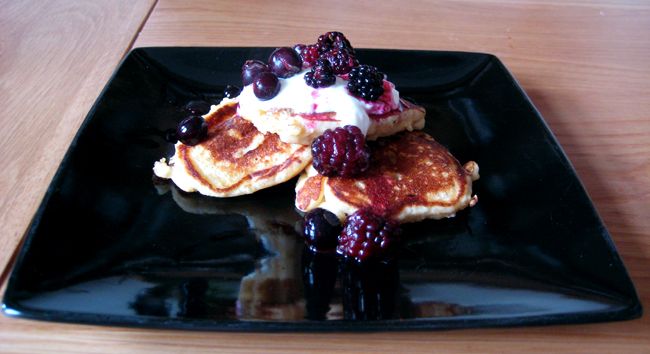 Ingredients
1 cup cooked quinoa
3/4 cup gluten free flour
1/2 teaspoon course salt
1 large egg, plus 1 large egg white
1 tablespoon unsalted butter, melted, plus more for skillet
1/4 cup milk
2 tablespoons honey, plus more for serving
Fresh fruit or jam (optional) for serving
Directions
In a medium bowl, whisk together quinoa, flour, and salt. In another medium bowl, whisk together egg, egg white, butter, milk, and honey until smooth. Add egg mixture to flour mixture and whisk to combine.
Lightly coat a large nonstick skillet or griddle with butter and heat over medium-high. Drop batter by heaping tablespoonfuls into skillet. Cook until bubbles appear on top, 2 minutes.
Flip cakes and cook until golden brown on underside, 2 minutes. Wipe skillet clean and repeat with more melted butter and remaining batter (reduce heat to medium if overbrowning). Serve with honey, maple syrup, fresh fruit, jam, lemon curd, sugar, lemon, bacon....I could go on!
Makes about 12. I discovered that they freeze really well if separated by greaseproof paper or sandwich bags. Then each morning all you need to do is heat them up for 30 seconds in the microwave. Quick, easy and full of protein!