Gluten Free Drinks at Starbucks 2013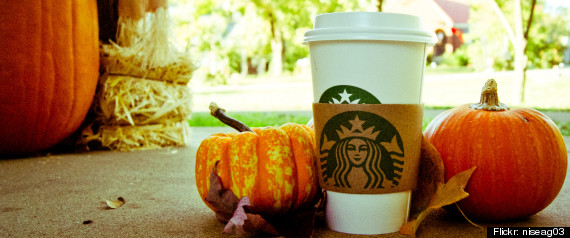 Ahh Starbucks. How I love the seasonal lattes! Unfortunately, the company can not guarantee that
any
of their blended drinks are 100% gluten free. Their
hot beverage list
states:
"All of our hand crafted beverages are made with no gluten containing ingredients and are suitable for vegetarians. Seasonal beverages may vary, please ask in store if you require further dietary information."

Furthermore, Linda Mills (a Starbucks spokesperson) advises that "products may be manufactured on shared equipment that processes wheat/gluten". This suggests that those of us who are especially sensitive to products made on shared equipment should avoid buying any blended drinks from Starbucks.
I personally have no idea whether I am that sensitive, but as I am going gluten cold turkey for a few months I'm going to be avoiding buying my beloved Pumpkin Spice and Gingerbread lattes.
But that doesn't mean I can't make my own!
(P.S I know Starbucks have already moved on to Christmas drinks. Pfft)
Recipe
Pumpkin Spice Ingredients (makes 12 tablespoons)
6 tablespoons ground cinnamon
3 tablespoons ground nutmeg
1 1/2 tablespoons ground ginger
1 1/2 tablespoons ground cloves or allspice
Latte (makes 1 - 2 drinks)
1/2 cup whole milk
1 tablespoon canned pumpkin - can be bought in Waitrose or Tesco
1/4 teaspoon pumpkin spice (see above) plus some for garnish
1 teaspoon vanilla extract
1-2 shots of espresso or strong coffee
2 teaspoons of sugar (brown or white)
whipped cream
Method
To make pumpkin spice mix just combine all ingredients and pop into an empty jar;
Add milk, pumpkin, pumpkin spice mix, vanilla extract and sugar into a microwavable jug;
Give it a whisk;
Microwave for 1 minute or so;
Divide between two cups or pour into one tall latte glass;
Add coffee;
Add whipped cream and sprinkle some extra spice on top.
Enjoy!
[Image: Huffington Post]